Fishing Basics for Beginners: In this article, we would be discussing some basics of fishing that you should know before your first fishing trip. We hope you like our Fishing Basics for Beginners article.
Fishing Basics for Beginners
Waiting for the right moment while being patient is the key to fishing! You need to make peace with every possibility, angle, constraint, and of course equipment before you go for action. You must know that fishing isn't the same old-school activity anymore. Many new types of equipment have been introduced in the market to match up with different edges of fishing.
In this Fishing Basics for Beginners, we will discuss:
Types of Fishing Rods
Selecting a Fishing Rod
Basics of Using a Fishing Rod
Types of Fishing Reels
Basic Fishing Tackle
Different Live Baits
Types of Artificial Lures
Fishing Basics for Beginners: Tips
Let us first know all about Fishing Rods and Reels as jump deep into Fishing Basics for Beginners.
Types of Fishing Rods
Once you start going fishing, you will wonder why it is important to choose the right kind of fishing rod. Backing up your judgment with the consideration of "where you will be fishing" is actually important. Different types of fishing rods are available for lakes, rivers, and streams respectively.
Let us take a look at some common options to help you choose wisely.
Cane Poles
The history of Cane Pole fishing rods is dated back to 2000 BC. This fishing rod is often called a "tight spotter" as it is known for its easy handling. If you are a beginner, who is just new to the concept of fishing, go for this one without thinking twice. A hook, a pole, and a line are enough to set you straight for a great fishing experience with the cane poles.
The cane poles fishing rods are made up of a plant's stalk but these days it's been replaced by fiberglass. Obviously, you should prefer the original one but the alternatives work fine too.
Fly Rods
The best advantage of selecting a fly rod is that you can pick it up as per your desired length, though, most of them are 8 to 9 ft in length because of their great practicality. The fly rods are known for their easy control, firm grip, and fine line control. They are easy to navigate as well. The rod blank is usually made up of graphite fiber sheets while the fittings of the rod comprise of grip, reel seat, ferrules, and guides. You may check out the Best Fly Fishing Combo Under 300 that we recommend.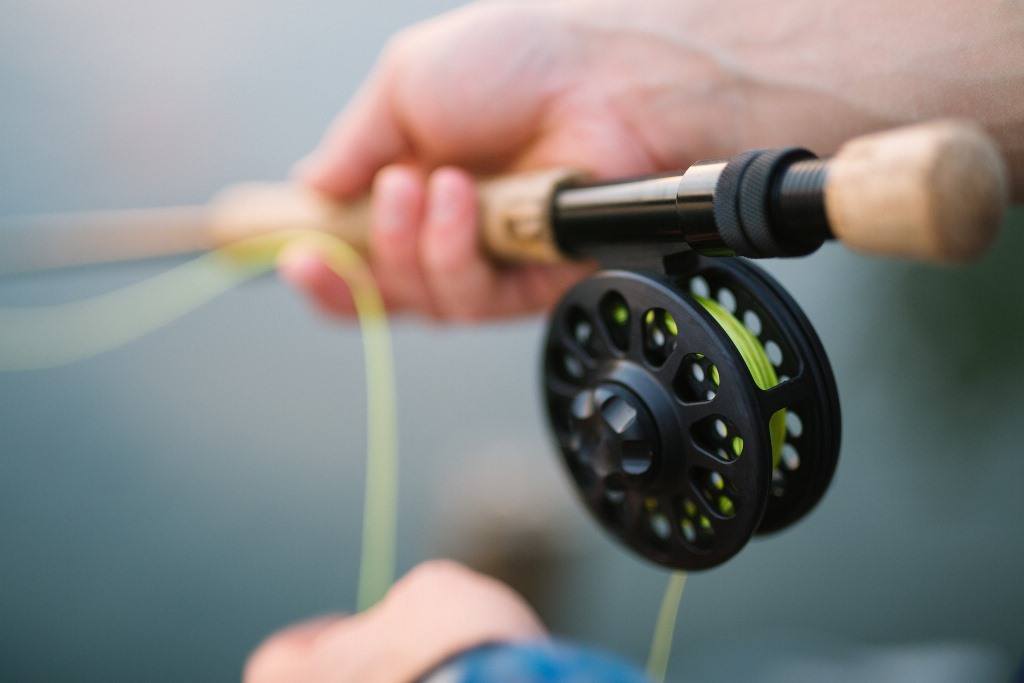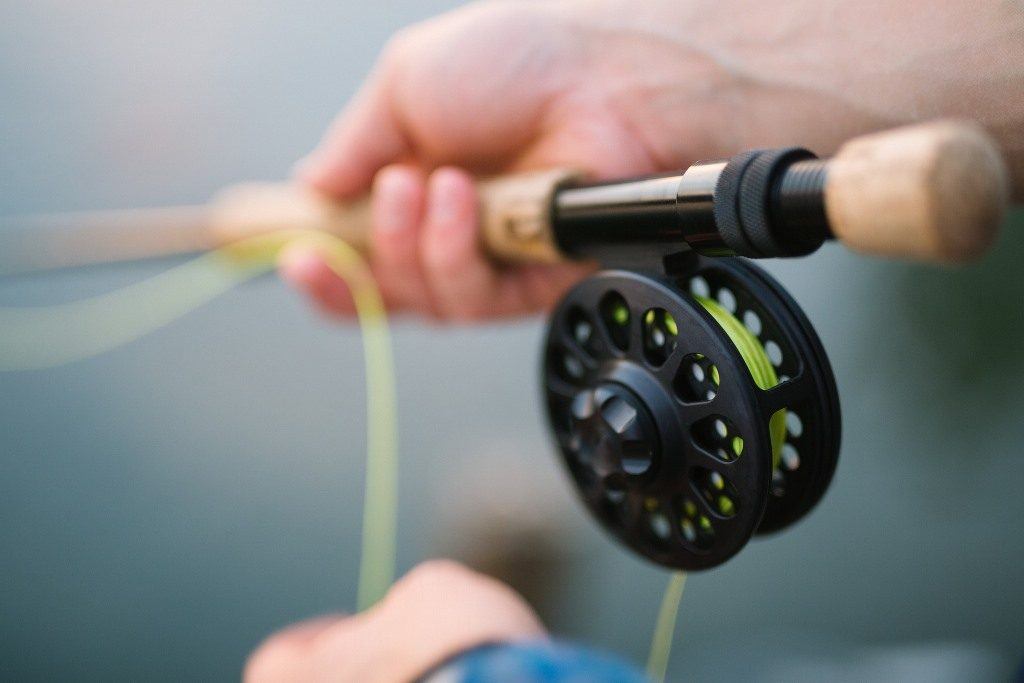 Spinning Rods
Before going along with these rods, you need to make sure that you are manually testing the weight of the rod. If you are new to fishing then the spinning rods would be highly beneficial for you to choose.
Graphite and E-Glass are used as the manufacturing materials for the spinning rods. With spinning rods, you can perform the casting very accurately as the rod eliminates friction while casting.
If you are planning to go trout fishing, then you can check out the recommendation for the Best Trout Fishing Rods.
Baitcasting Rods
To maintain line control while casting, the bait casting rods are designed with a trigger grip and reel. The Baitcasting rods are perfect for capturing and luring quick and difficult fish. One of the most powerful features of this rod is its gripping power which works fine even when the hands are wet.
Selecting a Fishing Rod
Everything related to the election of a fishing rod narrows down to mainly three factors – Length, Action, and Power.
Length
For a fishing rod, you will find many options differing in length. Starting from 4 ft. and going all the way to 14ft. different rods are meant for different purposes.
Short: If you are going with a lightweight lure then choose a fishing rod that is shorter in length.
Long: Needless to say, longer rods are meant for casting at longer distances for which you might use a heavy lure. Some longer fishing rods can be broken down into pieces so that they become travel-friendly.
Action
The point at which the rod bends is known as the action point of the rod. The action relates to the weight of the fish it can lift i.e. if you are targeting the heavier fish then you should go with the rods with a heavier action. Otherwise, if your target is lighter fish then you should prefer the rods with a lighter action.
Power
Power is defined as the pressure amount that you apply over a rod in order to get it bent. If you have to apply significant pressure in order to bend the rod then it will be categorized as a heavily powered rod and vice versa.
If you are a beginner, then you may also read Best Fishing Rod and Reel Combos for Beginners for more details.
Basics of Using a Fishing Rod
Learn these basic guidelines before you pack your bags and get set to go fishing. We want to ensure that you enjoy fishing to the core and become a pro at it soon! By following these tips for using any fishing rod, you will happily bring home a perfect gift of fishing for yourself.
Understand the relationship between a fishing rod, reel, and the weight of the line.
When you go to buy these, check the label for all the details.
Ideally, your fishing rod must match your line weight and terminal weight.
Take a pound test to know what kind of fish you are targeting to catch.
Check the pound before you select the fishing rod.
Practice enough on the field before you actually begin fishing.
Practice will help you get used to the fishing rod and attachments.
Make note of the direction, angle, and technique to use your fishing rod.
Be smooth while using your fishing rod; you don't want to make your prey panic either.
Begin pulling slowly and then raise your speed as you get it up.
Don't forget to relax and enjoy this blissful hobby of fishing under the shining sun.
Types of Fishing Reels
Choosing a perfect reel is also very crucial in order to have a great fishing experience. Let us look at the types of reels available:
Spinning Reels
These ones are great when it comes to fighting with a fish. With a line spool and drag adjustment, you can literally control the adjustments manually to accurately capture the prey. Your reel needs to match your rod. You will need an ultralight reel to go with your ultralight fishing rod.
Buying an extra spool is a great idea when you are going for a spinning reel as it offers great control with a heavier action.
Spincasting Reels
The spincasting reel consists of a thumb button that needs to be pressed in order to make the line go out, when you stop pressing, the line stops going any further. The spin cast reels are the easiest to use for children as they can be operated quite easily and effectively. If you are new to fishing or are still in a learning phase of fishing then the spinning reels are the best ones for you.
Baitcasting Reels
Due to their complex design, the baitcasting reels are a bit difficult to deal with. If you are just getting started you can buy a Baitcasting Reel Under 50. You would need a lot of practice in order to get a hang of it. With practice comes accuracy! These reels are great for accurately capturing hard-to-get fish.
You may use the baitcasting reels whenever you are sticking to the heavier lures although, you might need to practice the line alignment a little at first.
As we mentioned earlier, fishing is not a cakewalk! You need to get sorted with rods and reels before you go for some live action. Judging your requirements and your needs is actually a great idea as it will allow you to have a great fishing experience.
Now, let's move on to discussing the next step of requirements, which are the basic fishing tackle and bait.
Basic Fishing Tackle
Heading toward fishing? Make sure that you are carrying all the pieces of equipment required beforehand. Speaking of which, make sure that you take a glance at your tackle box. As an angler, you need to keep a list of things that you should have while you are on your fishing adventure trip.
Let us quickly note down what are these – Bobbers, weights, swivels, baits, hooks, sinkers, leaders, and extra fishing line.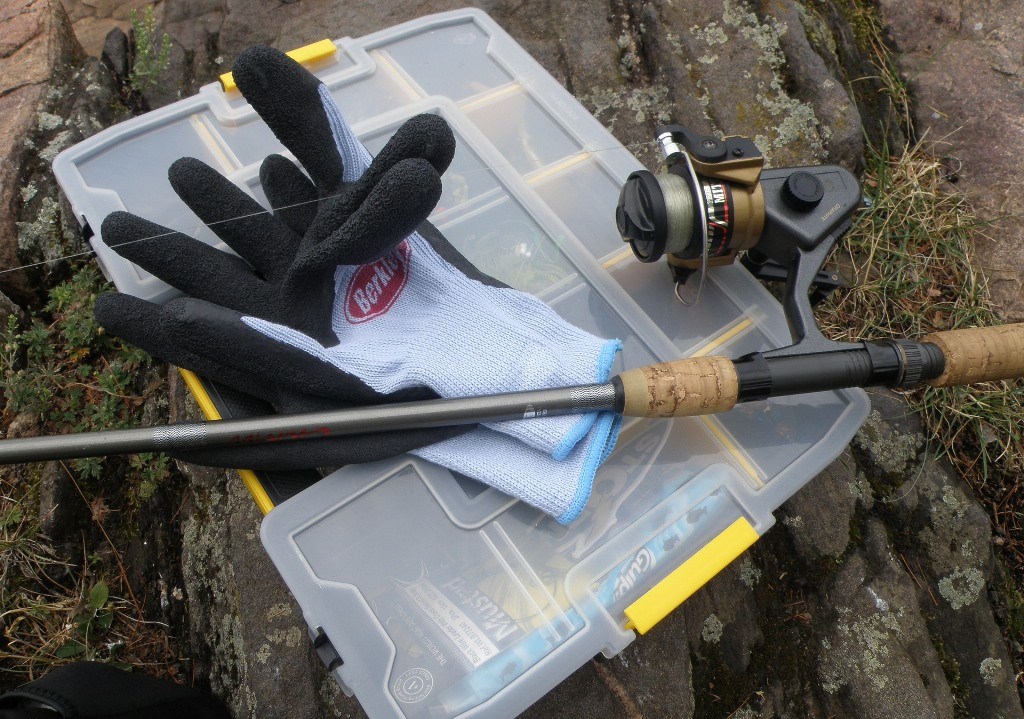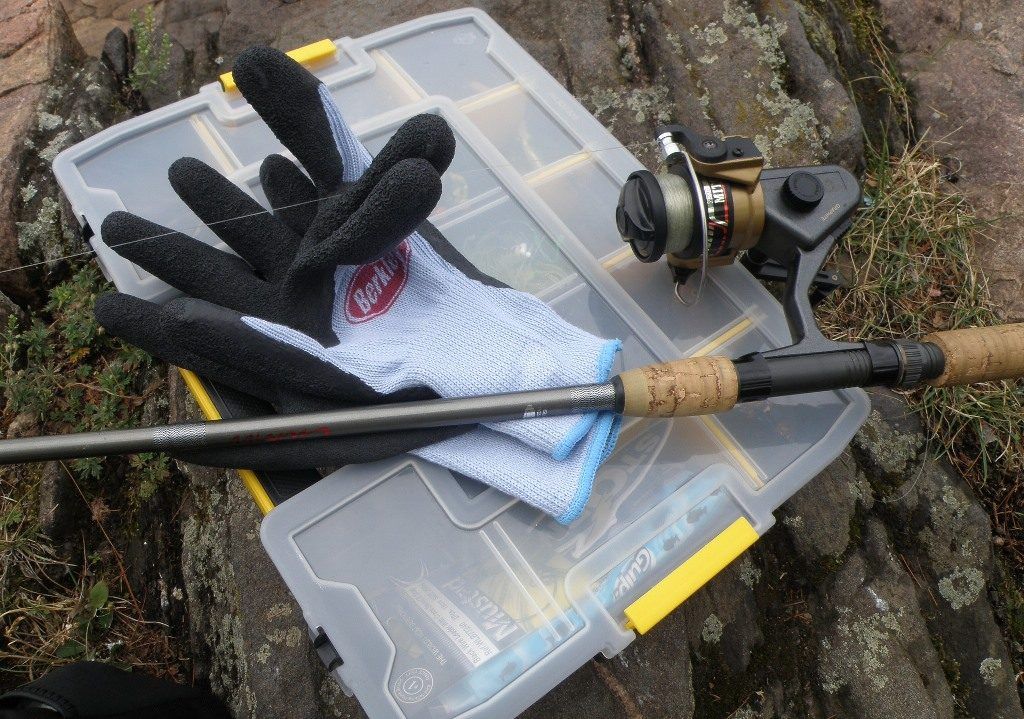 Fishing Hooks
Fishing hooks are an integral component that is required for fishing. A fishing hook can be used in various ways. Technically speaking, the main objective of these hooks is to get either in the mouths of the fishes or to get somehow tangled in the body of the fish. To achieve their purpose, the fishing hooks can be attached to a lure, or bait, or can be used for fly fishing as well.
Styles and Shapes: Just in case you are wondering, fishing hooks are available in different styles and shapes which are meant to be used for different purposes. Some of the names of the shapes of fishing hooks are:
Eagle Claw: Used for bait fishing, consists of a medium to light wire material.
Lazer Sharp: Nonoffset, consists of light wire material.
Mustad Model: Used for bait fishing.
TMC Model:  Heavy wire, used to tackle specific species of fish.
Types: The types of hooks can be categorized into three broad categories namely – single, double, and triple hooks. While single hooks are used for general fishing, double and triple hooks are used with artificial lures and bait fishing.
Fishing Lines
Choosing a fishing line is one of the most important decisions that an angler has to make. Having said that, the choice that an angler has to make for a fishing line is not random and neither is it a layman's job. One needs to consider a few important factors such as weight, length, material, and even breaking strength (if you not fishing for pleasure).
Fishing lines can be classified into 3 major categories namely monofilament/nylon lines, fluorocarbon, braided lines, and copolymer fishing lines.
Monofilament Lines: The monofilament lines have a great stretching ability that makes them a favorable choice for most anglers. Another intriguing property of these lines is that they are made out of a single kind of fiber. Yet another advantage of monofilament lines is that they are produced in a great range of diameters which gives the angler a good spectrum of choices.
Pound Test: For those of you, who are unfamiliar with this terminology, a pound test is applied to a fishing line in order to test its strength. Critically, these tests are done as per the conditions of the surroundings, as a preventive strategy.
An ideal line should score moderately in a pound test because if the line is too heavy, fish will notice it quite easily or if the line is too light, the fish would be able to handle it easily.
Sinkers
Sinkers are primarily attached to the artificial lures in order to make the hook dig deeper into the water body.
Some of the most common types of sinkers are:
Pyramid: To get the hook sink to the bottom.
Bead: Have a hole in the middle to let the line pass through it.
Split-shot: Split is made halfway through the sinker.
Bullet: Usually heavy.
Dipsey: Egg-shaped with a loop of brass wire.
Claw: Used in sandy places.
Bobbers
Just like a sinker, a bobber is also a helping agent when it comes to fishing. A bobber, also known as a float, is attached to the fishing line. It basically navigates and angles the line and due to its buoyant properties, helps to bring the fish to the surface.
Some of the most common types of bobber are Avon, Bubble, Dink, Popper, Quill, Self-cocking, Stick, and Waggler.
Live Baits
Fishing baits are worms or insects which are used to lure a fish and get the fish attached to the fishing hook. The baits can be artificial or live and more recently baits known as 'electric baits' have been introduced in the market. Over here, let us first focus on different live baits.
Worms, leeches, and insects have been the most prominent choices for live baits. These baits can be simply tied to the line, attached to the hook, or a fish trap to let them attract the fish. If you are looking to buy some fishing baits, then check out our Guide to Buy Bait for Fishing.
Freshwater Baits
Crickets: Small, Darkest brown-black in color, have the ability to fly.
Grasshoppers: Small to medium in size, green in color, protein-rich.
Worms: Sluggy, slow, small to medium in size, attract fish easily.
Minnows: Slate-silver fishes, small in size, attract medium-sized fishes.
Crayfish: Also known as lobsters, medium-sized, attracts crabs and medium size fishes.
Saltwater Baits
Shrimps: Elongated body, pink-red in color, attracts medium size fishes.
Crabs: Have claws, large in size, and attract large fish.
Squid: Have eight arms, medium size.
Artificial Lures
Artificial lures are made out of plastic or other fiber-based material which basically does the job of confusing the fish and attracting them toward the hook. Needless to say, these lures are much more usable and easy to find but sometimes they might work not as well as the live baits do.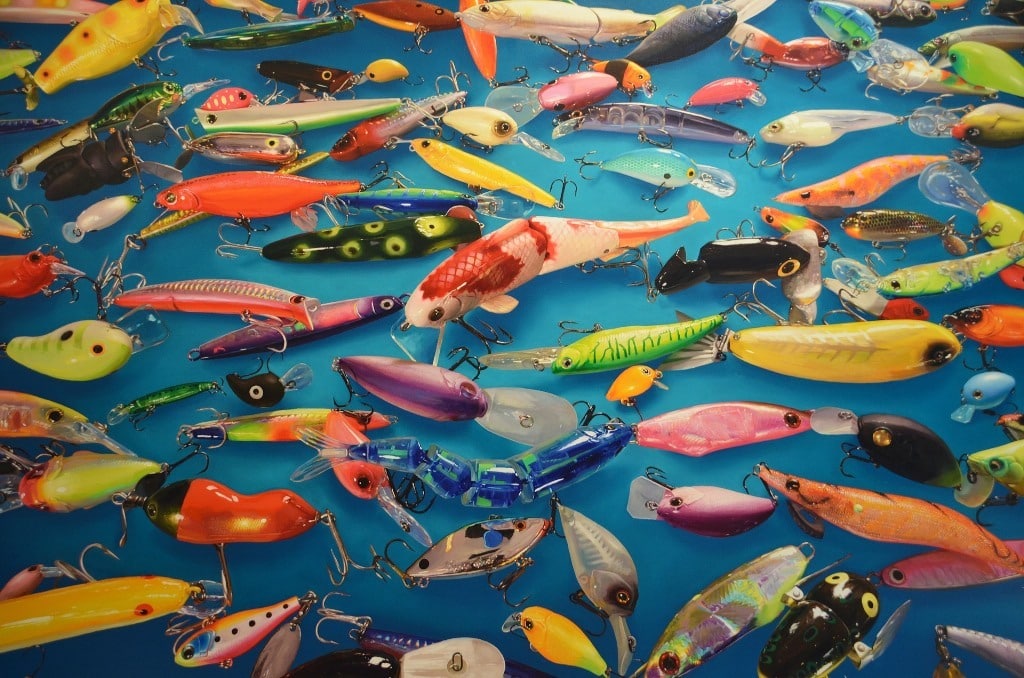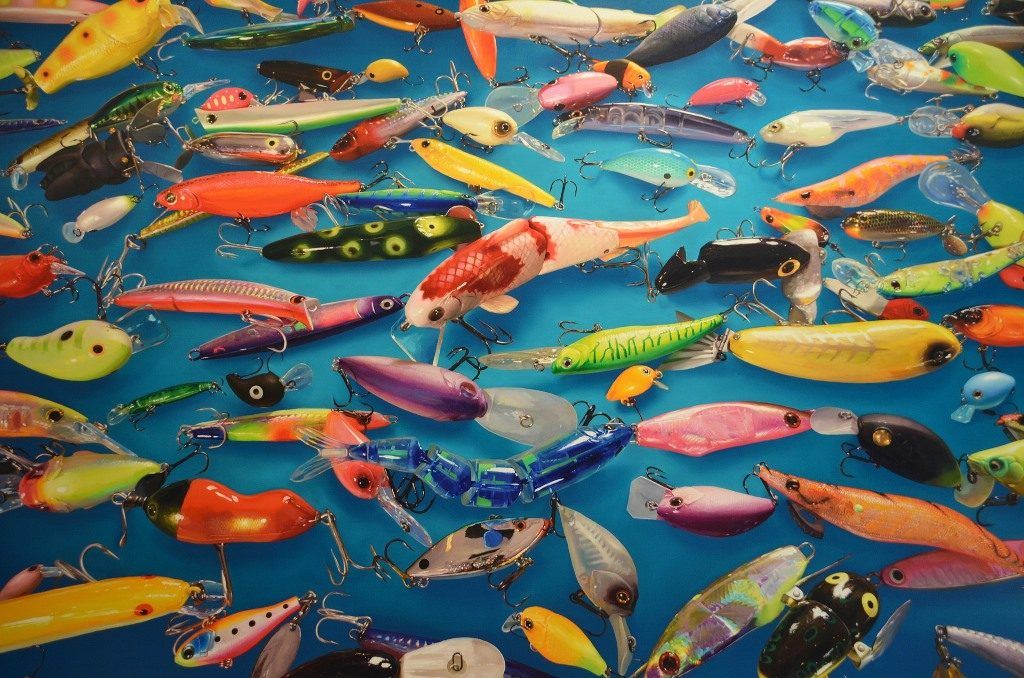 The most common types of fishing lures are:
Plug: Also known as minnow, crankbait, or wobbler, these lures basically have elongated bodies. Plastics or light metals are used to construct plug lures.
Jigs: These lures have a sleek layer of soft material that confuses the fish for real food. Jigs are designed in such a way that they follow a vertical path in the water bodies.
Soft Plastics: These are the most common lures available. They are constructed in the shape of tiny fishes to attract bigger fishes.
Spinner Baits: These look much more realistic as they perform a spinning motion when they are set in the water.
Spoons: Made out of metal and are curvy lures.
Make sure your fishing gear matches the lure you are planning to use. Let us say if you are planning to use jigs for Walleye fishing, then you must use a high-quality walleye jigging rod. Similarly, if you are planning to use swimbaits, then you must use a swimbait rod.
Basic Fishing Tips for Beginners
You have bought the right fishing equipment for yourself and are all set for fishing; but do you know how to begin? Perhaps, these Fishing Basics for Beginner Tips will help you get started:
Safety
Your safety is a priority! Get a proper fishing license, an inflatable life vest, sunscreen lotion, water bottles, and food for yourself before you leave for your passion. You don't wish to end up being a wanderer starving for food in case you miss the prey. If you are looking for a life vest, then you can check out the best inflatable life jackets for fishing here.
Preparation
Passion for fishing and preparation for fishing are two different things. Fishing just as a hobby without any preparation will make you lose interest soon. Preparing yourself well for fishing is important if you wish to pursue the hobby.
Equipment and Tools 
Apart from the fishing rod, don't forget to carry important fishing aids like a map, extra line, hooks, plastic lures, first aid kit, a guide on fishing, extra reels, a rain suit for fishing, good quality fishing waders, and a fishing sling pack to carry everything. 
Fishing Locations
Understand the types of water bodies used for fishing. Consider the difference between lakes, oceans, saltwater, and freshwater. Every water body may vary in relation to the type of fish. For instance, most salmons are born in freshwater. Fishing in a lake requires different techniques than fishing in a river or fishing in a pond.
Casting
Learn how to attach bait to the rod. Be patient when you are casting the prey with the bait. Hold the rod still when you feel the rod vibrating. Slowly pull the rod up and then increase your speed.
Bait
Choose the right bait for your fish. If you know the market well, you will find cheap baits are better than expensive lures. Do not worry about losing the fish; you will eventually learn it with practice.
Luring
A new bait or lure for the first time takes some time for you to get used to. Try doing it for the first few days and slowly you will learn the forces you need to catch the fish.
Fishing Basics for Beginners: Conclusion
'Fishing is the secret of going deep into what you have been longing for.'
So here we are at the end of Fishing Basics for Beginners. We hope you liked reading our guide. We tried to cover all the basics of fishing such as rods, reels, tackle, baits, and lures.
Have happy fishing and we bet you will fall in love with the experience of it. Don't forget to share with us your first experience as we would be happy to know about it. We wish you all the best in your fishing experiences!

Fishing Basics for Beginners is the first part of our Learn to Fish mini-series. You may check out the second part here at Fishing Tips for Beginners (Learn to Fish: Part 2).
Hope you found this guide useful. Leave your comments and let us know how you felt about it.
Last Updated on June 16, 2023 by Victor Mays